Few football fans are more die-hard than those who follow their alma mater.  Serious college football ride to the games in style in an RV. After all, other than being in the first row of the 50-yard line, there are few ways better to catch a game than in a luxury RV.
At Motor Home Finders, we know many of our customers purchased their RVs not just to travel to the game in style, but to take tailgating once they get there to a whole other level.  They're not alone as this trend is gaining both momentum and popularity.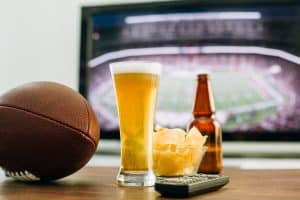 With each college football season, tailgating parties get bigger and more elaborate. 
If you've ever seen a long line of red Class A buses rolling into a Nebraska Cornhusker or Oklahoma Sooner football game, it can be an awesome sight and one that strikes a little terror in the hearts of the opponent.  These are the kind of hard-core fans tailgating in an RV was made for.  For many, they never make into the stadium, but tailgate with hundreds of like-minded fans and then retreat to the comfort of their RV and watch the game on a big screen from the parking lot.
As RV tailgating grows in popularity, many universities are now designating special areas for RV parking.  For instance, Notre Dame tailgating is located in the White Field North, and while overnight parking is prohibited, fans have up to three hours to leave after the game, giving them plenty of time to pack up their pennants, banners, blow-up mascots, and other items reinforcing their team spirit.  Penn State has about 750 RV spaces in Beaver Stadium, with limited overnight parking for the logo ones who get there first.  South Carolina's Clemson University offers passouts, meaning you can come and go from the stadium to your RV as you please during the game.  There's no waiting in long lines for food or a restroom for the Clemson fans who tailgate there in an RV.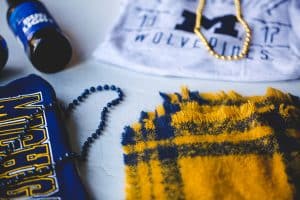 Kick up tailgating a notch by serving signature drinks made specifically for your alma mater. 
Tailgating usually involve a little imbibing.  Fortunately, luxury RV owners have fully equipped kitchens that can not only roll out the most inventive, Michelin chef level tailgating spread, but can also be the ideal place to concoct the perfect drink for the occasion.  Here are what you might find being served at these universities on game day.
Notre Dame:  The Luck of the Irish.  It's simply whiskey and lemonade poured over ice.  Easy breezy.
Ohio State:  The Boozy Buckeye.  This drink is a little more complicated, and served warm, making it perfect for a cold winter day of football watching.  You start with hot chocolate mix, and add Bailey's Irish Cream or Bourbon (or both), and a teaspoon of melted peanut, plus more drizzled on top. It's then finished with a whirl of whipped cream.
University of Florida:  Gatorade Margaritas.  These are surprisingly delicious mixture of lemon-lime Gatorade (which was invented by a Florida football coach) and tequila in a glass with a salted rim.
You get the idea.  Just about every University has their own signature cocktail.  Whipping them up in an RV is simple and easy to do.
What time should do most fans start tailgating in their RVs?
Since the average tailgate lasts about four hours, many arrive about five or six hours before game time.  The most excited fans begin arriving as early as 6 a.m. or even the night before if overnight parking is allowed.  Showing up late usually means you won't find a good spot to park, and remember, RVs can't just park anywhere.
Everything is better when you have all your creature comforts around you.
RV'ers love to stick together, and those who share the same University name on their diplomas are especially passionate about getting together before the big game.  Not only is it a great way to socialize and meet new friends, it's also the perfect opportunity to meet up with other alumni.   Plus, when all is said and done, you can catch a quick nap in your own bed before heading out to the next game.
Looking for the perfect RV to tailgate in?  We can help.
Check out our ever-changing online inventory of gently used and lightly traveled luxury RVs by visiting. We can help you find the one that's just right for you.